Bike Journey from Slovakia to Portugal
Cycling across Europe to the Atlantic
Bike Journey from Slovakia to Portugal
Since my childhood, I was amazed by Europe. By its geography, diversity, history. I got a beautiful topographic map of Europe from my grandfather and it is still hanging on the wall above my bed. My desire to travel and explore the world led me to study geography at the university in Bratislava. Five years plus one year of brake flew by and I found myself graduated in 2008. Having two months of free time before moving forward in my career, I somehow needed to clear my head. The idea of a bike journey from my home to the coast of the Atlantic across Europe came up to my mind as a natural outcome of my geographic brainstorm.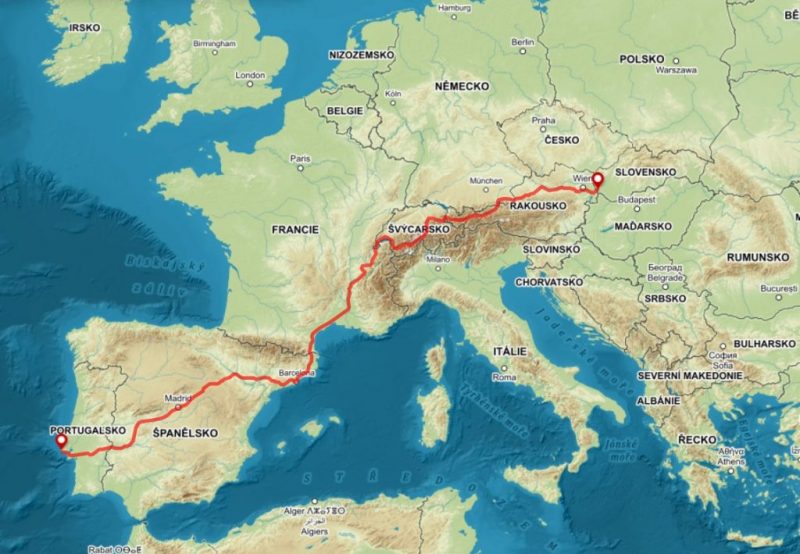 Solo Bike Ride as a Challenge
I was not used to travel alone. But somehow I felt that now I should. Cycling across European continent on my own was the challenge I accepted. My companion was supposed to be my touring bike as well as random and planned human encounters. My budget was limited, so taking a tent, sleeping bag and cooking equipment was an obvious solution. This was the time before GPS navigation was so common, so an 1:1 000 000 road map of Europe made the job. Not perfectly, as I will describe below, but it did. The plan was to cycle some 4,500 kilometres in two months, including some days to rest and to meet new Couchsurfing friends. 
The first week kick off along the Danube westwards to Austria was with my friends Jozef and Václav. Danube river cycle path between Vienna and Linz was a great start to get to the flow. Flat bike route started to ascend around a beautiful lake and mountains scenery of Salzkammergut near Salzburg. And this was also where I said good bye to my friends and continued alone.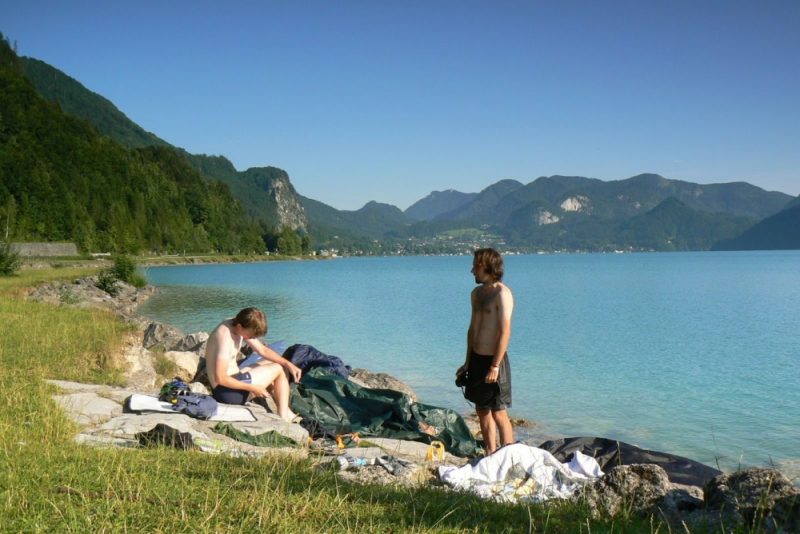 Lost in the Alps
Austrian Alps are amazing to cycle. Designated paved bike paths offer safe way to enjoy the spectacular landscapes and drivers are very respectful to cyclists. The only problem can become the weather. In my case, it tested my endurance upon my first higher pass. Heavy rain followed me all the way down to the valley and after an hour I was completely wet, including most of my personal belongings. My non-waterproof bike panniers were ready to beat Spanish plateaus in August, but not the storm of the Alps. Luckily, I found a cabin shelter to stay and wait. Packed in a sleeping bag, I was waiting from later morning until early evening, but the heavy rain was not stopping.
Preparing myself  for the night, suddenly a man came to the shelter and asked what I was doing there. Apparently, the owner of the cabin. And, definitely he will kick me out, I planned an escape plan. Surprisingly, he told me to follow him behind his car. So I did. Owner of the guest house offered me a bed for free and a perfect dinner with his family included. This was the only time during the whole journey I was given this amount of care. And I realized, this can happen only in the shitty weather. The last ones will be the first! I could not thank enough to the good soul of Vorarlberg.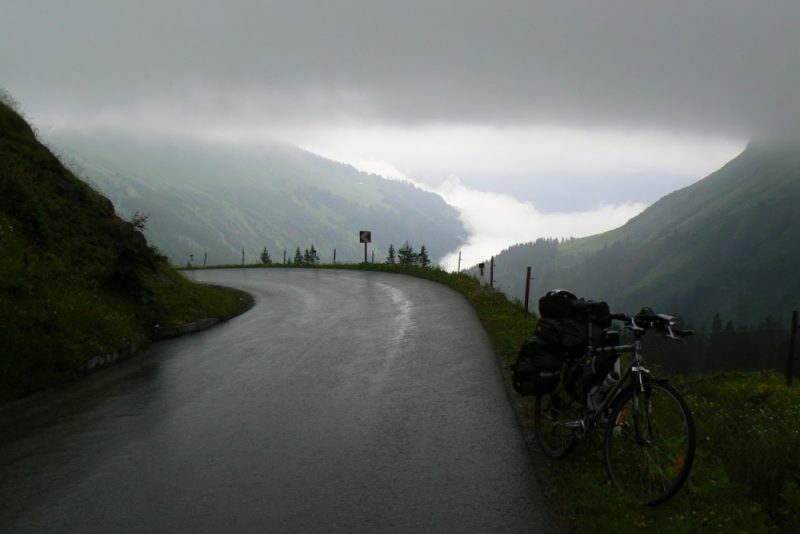 Crossing Switzerland
Another amazing human encounter I experienced just a day or two later, in Swiss town Chur. Travelling across Switzerland with low budget can be a challenge, but I decided to overcome my prejudices and wrote my first Couchsurfing request. And it was over my highest expectations. Before setting off for the journey, I just made my profile and did not have a single review. The guy in Chur accepted my request and instructed me to stop at his office, where he handed me keys fand gave me directions to the flat. Well, a penthouse at the top floor of a medieval house in centre of the town. I took a perfect shower and prepared pasta for the guy when he came back from work and we drank beer until late hours.
Switzerland was the dream to cycle, but not so much to find spot to pitch a tent. Well, private ownership is what symbolises the living standards, right? However, thanks to other friendly Couchsurfing hosts in the town of Visp I enjoyed more comfort and shared more of our lives! Visp was my strategic choice, as it is a gateway to the Matter Vispa valley, ended by magnificient Zermatt with splendid views to Matterhorn. However, the most memorable cycling experience for me was the climb up to Furkapass (2436 m), the highest point of my entire route between Slovakia and Portugal.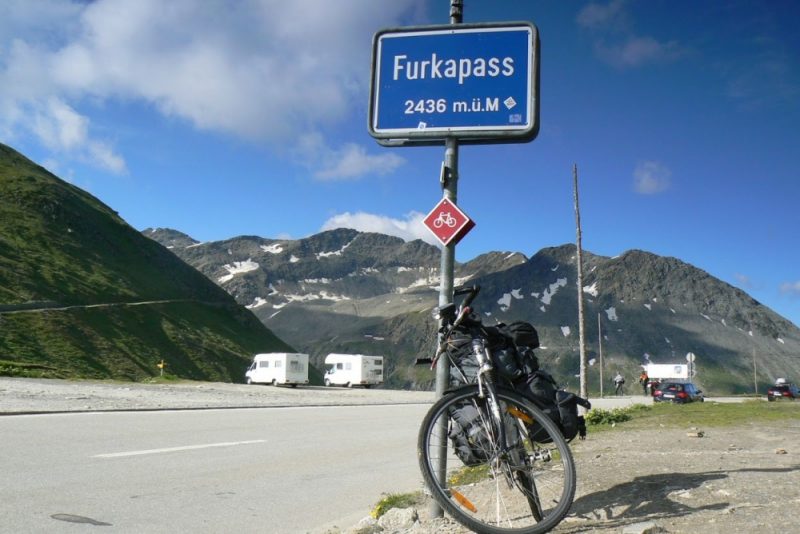 France, Here I Am!
France invited me in style, with spectacular views to the Mount Blanc from Chamonix. Even better invitation expected me in a little historic town of Crest near Valence, where I spent a few nights at my friends rustic villa and experienced a few-hours long French lunch in style. Lisa made me a haircut, too. And it was one of my best haircuts I have ever had! Alternative music festival with 1€ glasses of local wine was one of the top experiences of the whole trip.
Continuing south-west, I crossed several little historic towns of Provence and violet levander fields. The next stop for socializing was in town of Millau, famous for the highest highway bridge in the world (246 metres). My host was an extremly funny and friendly guy, who biked on a basic pink bicycle with me next day good 50 kilometres across the hills of Provence. The bike journey of his life-time was however a trip to Berlin to surprise his girlfriend – with this bike!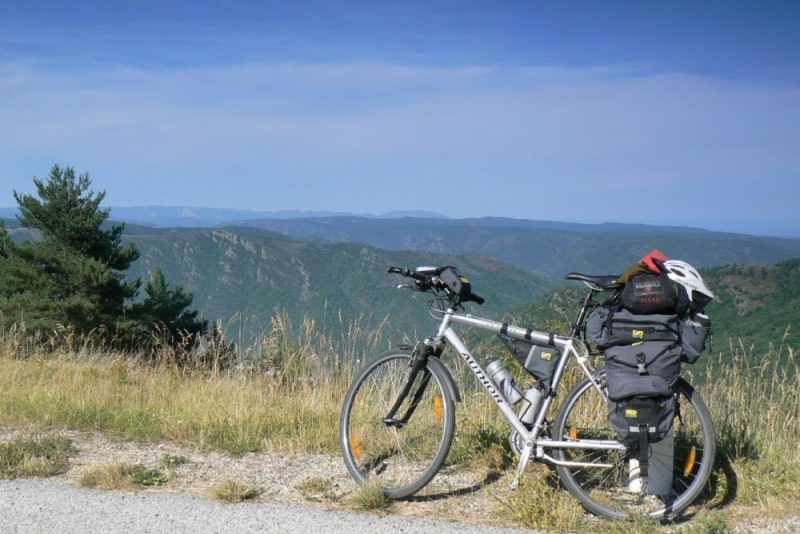 Traversing Spain
The first touch with the sea on my route was the Mediterranean coast in the Roses resort, only a few kilometres south of the French-Spanish border. My Slovak friend Barbora was spending her vacation there so it was a good opportunity to stop by and relax on the beach for a few days as well. Recovered, I headed up to the Pyrenees and across the dry semi-desert landscapes of Extremadura.
Zaragoza was the place to be in 2008. The Expo show with the Water theme attracted thousands of visitors and I did not refuse an offer to have a look at this event thanks to girls from Lithuania, who were volunteers at their national stand. I was a bit scared of cycling in the heats across the inland of Spain in August, but the summer this year was relatively mild and highest day temperatures reaching some 35°C. I also used to wake up before the sunrise, cycle until noon, sleeping somewhere under the olive tree or by a local swimming pool during siesta and then doing some last 40 kilometres of the day in the evening. 
Madrid turned out to be a difficult place to find a couch. I decided to bike around its southern suburbs instead of biking into the busy city traffic of the Spanish capital. Sleeping under the stars in an olive orchard with views on Madrid at night with a bottle of local red wine was perfect. I planned to spend a night in the town of Plasencia before crossing the border to Portugal. It was only after all three couch requests were successful and the hosts were very welcoming when I realized that spending here three days was just right!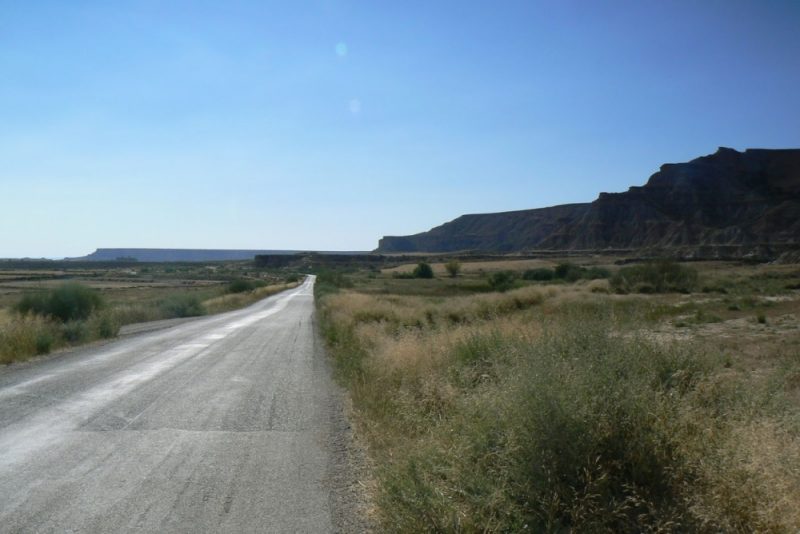 Reaching the Atlantic
Hills of Portugal were dotted by wind turbines. Soon I realized that western wind blowing from the Atlantic does not give me the goal for free. Last 30 kilometres against the strong wind, I almost lost motivation. However, after the first sight of the Atlantic ocean with its magnificent waves and air I forgot all the suffering. I found the first camp and celebrated reaching the ocean with a bottle of red wine and camembert cheese from Lidl. 
However, my goal was still a few kilometres further. The westernmost point of Europe, Cabo da Roca, is really the place to finish to journey. The power of the ocean and high cliffs create a perfect setting for the cinema-like happy end. After 8 weeks and 4500 kilometres, I reached the goal. After a few nights in charming Lisboa, I took a flight back home. New life journey was awaiting me and I felt I was ready to go.