Explore The Bike Destination in Europe
Cycling in Slovakia: a Crossroad of European Cycling Routes?
During your cycling journey across Europe, it is easy to avoid cycling in Slovakia. But there can be also a chance to include it into your itinerary. Travelling from Western Europe to Asia? You will very probably follow the Danube Cycle Route (EuroVelo 6) and visit Slovak capital Bratislava and southern Slovakia. Heading from the North to the Balkans? You could easily take the Iron Curtain Cycle Trail through western Slovakia (EuroVelo 13) or the East Europe Route through eastern Slovakia (Eurovelo 11).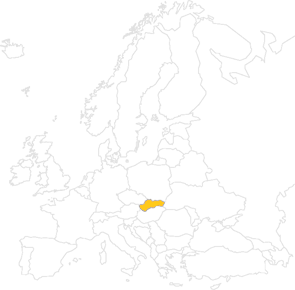 The Best Bike Rides in Slovakia
Slovakia is predominantly mountainous, with lowlands in it South West and its South East. However, Bike Slovakia team strongly recommends to head to the dramatic landscapes of Central and Northern Slovakia. It is definitely worth the effort to ride through the national parks, mountain ridges, plateaus and valleys. 
Traffic Rules for Cycling in Slovakia
Bike paths in Slovakia are improving, but usually you will need to use the side roads with low traffic. Cycling helmets for adults are not compulsory, but for children up to 15 years of age they are. Drivers are usually tolerant, but sometimes they can pass you less then one meter, so ride defensively.
Cycle Route Signs in Slovakia
Cycle routes are signed by a "C" letter in one of the four colours (red, blue, green or yellow) and you can find them on trees or other objects along the route. At the crossroads and certain spots, you can also find cycle tourist signs with directions and distances. There also two different icons of the cyclist ("cestná") / mountain biker ("MTB") to distinguish between the paved and unpaved bike paths. Sometimes, you will be informed also about the difficulty level of the route – "REKREA" is easy, SPORT is medium and EXPERT is hard. Find out more information about these signs at the website of the Slovak Cycle Club.